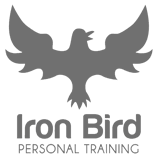 The Iron Bird Process
1. "Iron Bird Strong" (Strength Training) - Every pound of muscle burns 500 calories a day, 3500 calories per week. Which is a whole pound of fat. When you build muscle your metabolism is elevated and burn fat faster. The average person loses 1% body fat per month, so it's usually a 12-month process to drop 12% body fat. Which would change your whole body.
2. Monthly Nutrition Coaching - Improving nutrition doesn't happen overnight. It's a journey. We have coaches here dedicated to guiding you through that journey. We'll break it down for you into digestible steps that you'll master during the course of a year. Your nutrition plan will be updated regularly and available on the app.
3. Monthly Inbody Testing Measurements and progress pics available through App - We'll meet with you monthly to track your progress and make recommendations. All info will be available through the app as well.
4. A Personalized App where you'll be guided with home workouts and nutrition to keep you accountable!